Scrapbook
Here's a page for pictures from our elementary school years. Send me any more you have!
Click on the pictures for closeups!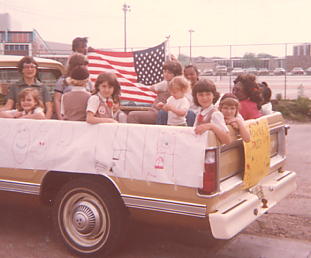 This one is from Sylvan Beach Day, May 1, 1977, Brownie troop 1414, which would have been First Grade. Left to Right: Laura Wallace; Mary Wallace (my mom and the troop leader); Tammy Christiansen (facing other way); not sure who's holding up the flag or who's between her and Tammy; Belinda Lopez; not sure who's holding the flag, or who the toddler is; Emily Delgado; Wendy Emprimo (whose father owned the truck and was the other troop leader); and the other folks must be Carmen Walker and her mother, but I don't know for sure. I have more brownie pictures somewhere but I can't find them!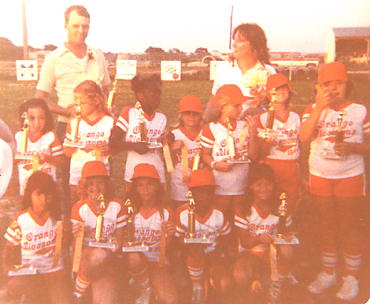 This is one Stephanie sent me, and I'm not in it and don't know most of the people in it, so Tammy has graciously provided the identifications. It's the trophy-winning awesome Orange Blossoms softball team from 1978-79, Fourth Grade. The adults are Mr. and Mrs. Parsons. Tammy says: "Top row starting at the left is Dora Garcia (Leticia's sister), Bridgett Clepper?, Kim Brown, Bobby Joe Spann (Dwayne's sister), Linda Parson (my sister), Tammy Christiansen, Bottom row left is Marina Lopez, Melinda Ashley, Stephanie Donellan, Nicole Hatter?, and Kathy Childs. I'm pretty sure about most of them. Hope this helps! I can't believe how young my parents look in these pictures!!!" BTW Tammy I didn't recognize your dad but Brad Paschal did!
This page last updated 07 March 2001.