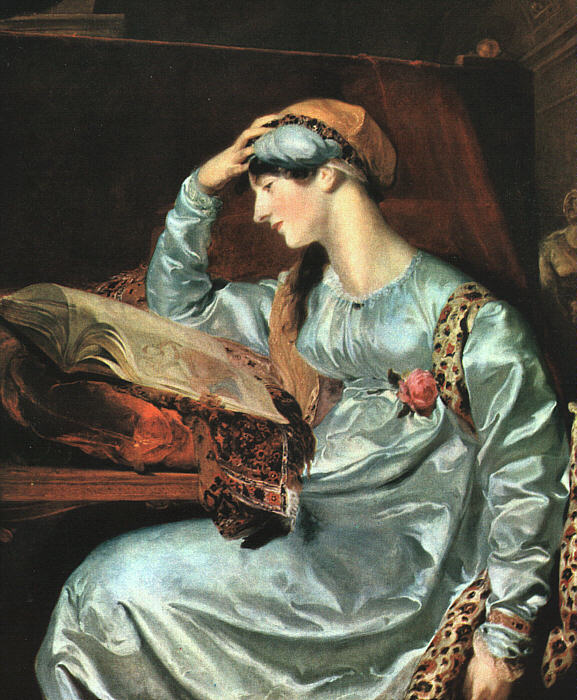 Mrs Jens Wolff
by
Sir Thomas Lawrence
painted 1803-1815
Mrs Wolff was the wife of the Danish Consul in London ca. 1800-1813. Lawrence began her portrait in 1803, and sometime after that was rumoured to have had an affair with her. In 1813 she and her husband were divorced; but although she remained in London for two more years, Lawrence did not finish the portrait until after she left London, after which he exhibited it at the Royal Academy in 1815. It currently is on display in Room 222 at the Art Institute of Chicago (gift of Mr. & Mrs. W. W. Kimball, Collection Number 1922.4461).
She is posed as the Ethyrean Sibyl from the Sistine Chapel, examining a book of engravings of Michaelangelo's works. The background details, not really visible here, include a Roman lamp and a bust sculpture. It is intended to evoke a feeling of being immersed in classical style. This image of the painting does not reflect the color of Mrs Wolff's dress accurately; it is a lusturous cream color which looks so real that one wishes to touch it.
The painting is fascinating for another reason: Mrs Wolff appears to have no clavicle.
For more works of Sir Thomas Lawrence, see Carol Geffen's Online Art Museum, which has a page devoted to Sir Thomas.